PARIS BY NIGHT 104
SATURDAY, SEPT 3, 2011 - 7:30PM
SUNDAY, SEPT 4, 2011 - 1:30PM
PLANET HOLLYWOOD RESORT & CASINO
LAS VEGAS
New Advertisement Video:
CLICK HERE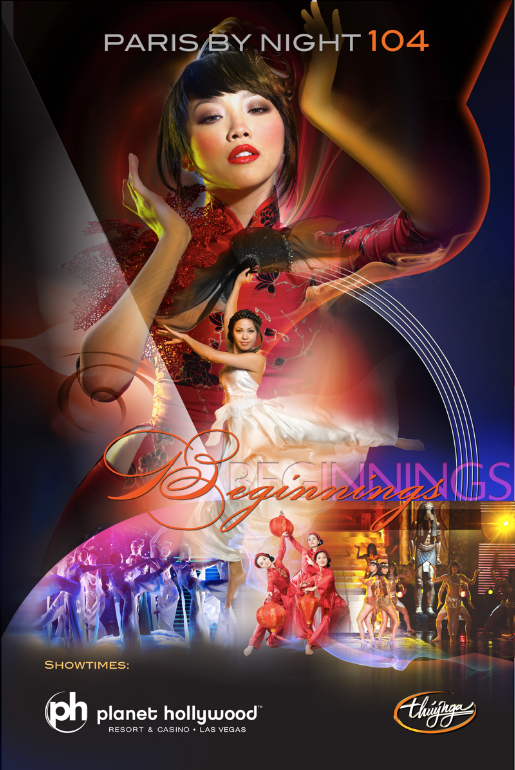 For the third consecutive year, Paris By Night returns to Planet Hollywood
for the biggest Vietnamese entertainment show taping of the year.
Paris By Night 104 promises a lot of stunning performances,
spectacular staging, incredible lighting, and breathtaking effects.
Paris By Night will bring together the biggest names in Vietnamese
music on one stage for an unforgettable event.
In 2009, we brought you "Fly with us to Las Vegas";
in 2010, we celebrated the historic 100th taping,
and this year we proudly present "Beginnings."
It has often been said, "From small beginnings come great things" or
"What we call the beginning is often the end. And to make an end is to
make a beginning. The end is where we start from."
Everyday we are surrounded by different aspects of beginnings in our life.
Come with us on a journey of Beginnings in Paris By Night 104 -
the beginning of love, the beginning of a path, the beginning of a dream,
the beginning of a career, or the beginning of a memory.
Paris By Night 104 only at
the Theater of Performing Arts at Planet Hollywood
September 3 & 4, 2011.
TICKETS NOW ON SALE

EXCLUSIVELY AT
THUY NGA
9295 BOLSA AVE
WESTMINSTER, CA 92683
FOR ALL INFORMATION REGARDING TICKET PRICES,
PLEASE CONTACT 714-894-5811
or email INFO@THUYNGASHOP.COM